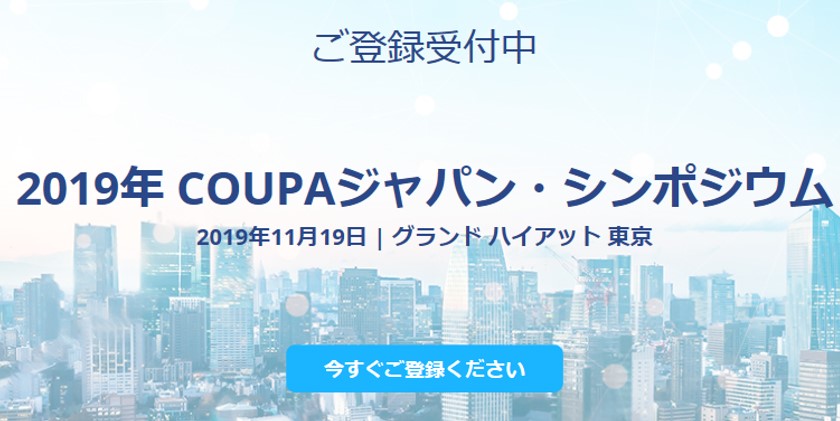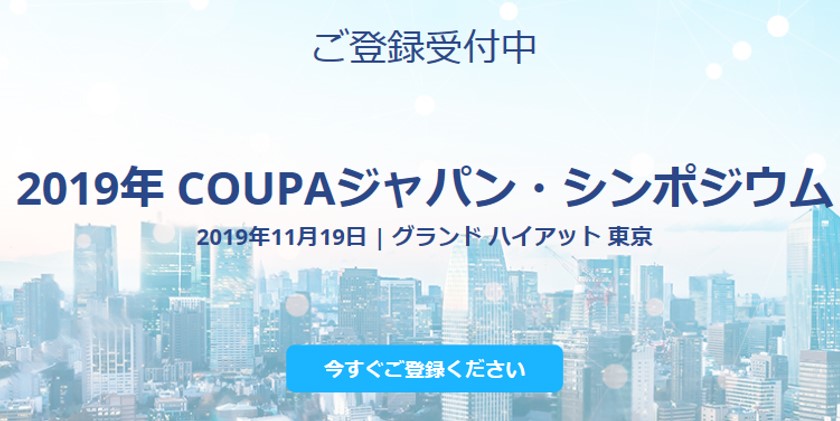 The annual symposium of Coupa, a rapidly growing procurement solution featuring innovation and ease of use, will be held on November 19th at Roppongi, Tokyo. For companies looking to adopt an indirect procurement system, this is a great opportunity to learn about the product that is rumored to be adopted by a very famous Japanese company. 2019 COUPA Japan symposium: https://get.coupa.com/JAPAN2019.html
However, Coupa is not yet well known in the Japanese market. So, I would like to describe "What is Cooper and its current state" from the following viewpoints:
Ready for Japanese market: A world-famous Japanese company decided to adopt Coupa by replacing its competitor product.
Coupa takes the best spot in Gartner Magic Quadrant report 2019
"Next to AI and BI is CI": The innovativeness of Coupa
The business model that makes the industry enthusiastic: Why Coupa wins
40% annual growth… Coupa is no longer a tiny start-up
1. Ready for Japanese market:
A world-famous Japanese company decided to adopt Coupa by replacing its competitor product.
Coupa Japan has not officially told me, but rumors hang around. Following Mitsubishi Heavy Industries last year, it is said that a world-renowned Japanese company has decided to adopt Coupa. The Reliability seems to be high, and upset has happened among procurement service providers in the Japanese market.
To tell the truth, at the last symposium last November, I had a great concern about Coupa's product readiness for the Japanese market. However, Coupa Japan completed the Japanese market fit only in four months, as I wrote in my article "Coupa is READY for the Japanese Market!"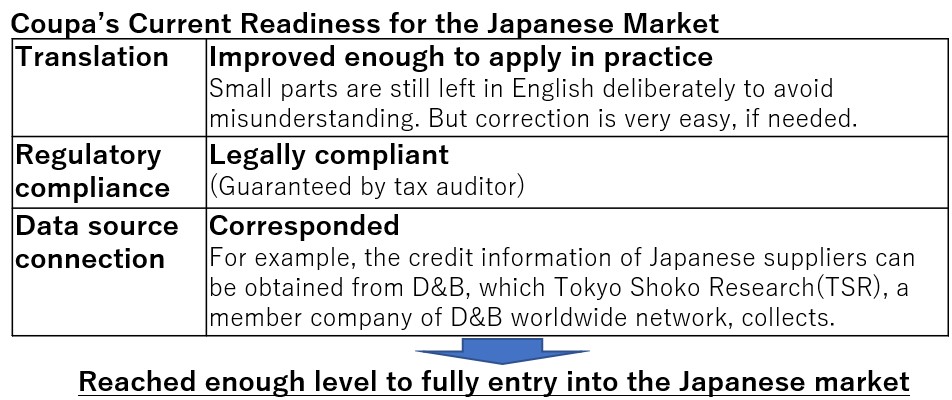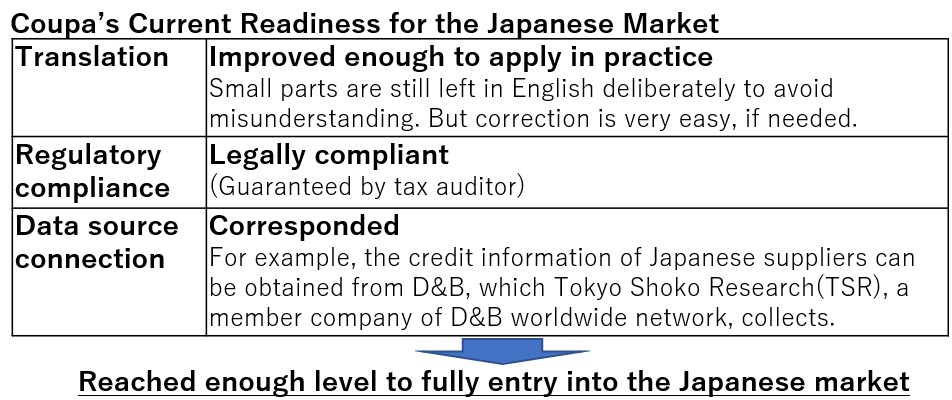 In addition to this, rumors of adoption by a world-famous Japanese company. With this as a trigger, the adoption of Coupa in the Japanese market will progress rapidly. But why are Japanese companies, as well as overseas companies, accepting Coupa one after another? Let's dig deeper into the reason.
2.Coupa takes the best spot in Gartner Magic Quadrant report 2019
A great news arrived at the end of July. Cooper was ranked at the single top of the list of Gartner's Procure-to-Pay Suites 2019 Magic Quadrant. For the past 3 years, Ariba and Coupa have been twin tops. But the equilibrium was broken in 2019.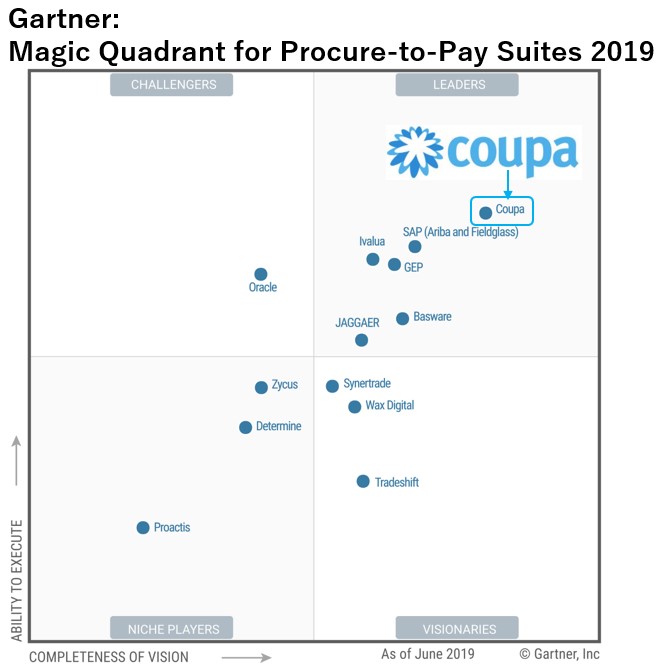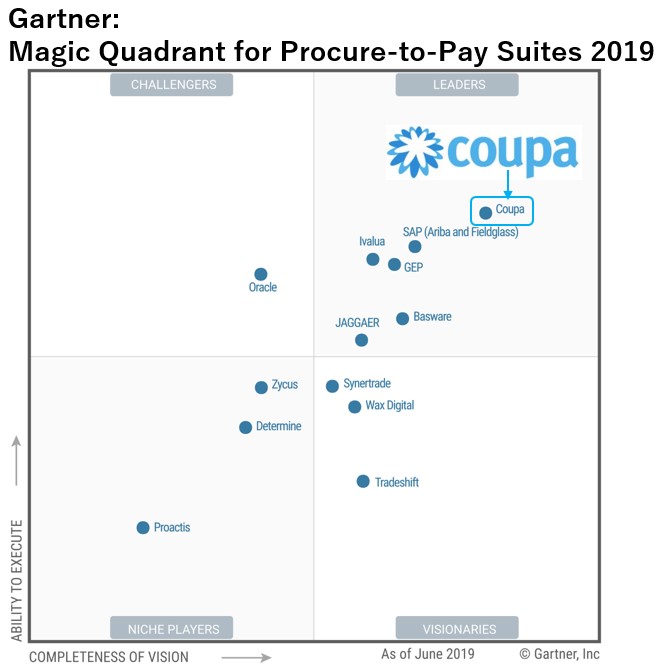 "Ease of Use" and "innovation" – They are two advantages of Coupa particularly emphasized in the report.
"Ease of use" has always been Coupa's strength. For example, many comments such as "Coupa is a very business-friendly system and easy to use with instant spend transparency" have been received. However, the functional advantage can be caught up. For example, competitive product Ariba has been improving its screen design similar to Coupa.
But what about "Innovation"? According to the Gartner report, Coupa's major innovations are:
– The way in terms of using its customers' aggregated data to create benchmarks, insights and recommendations
– Being innovative and providing useful new functionality in upgrades
3."Next to AI and BI is CI": The innovativeness of Coupa
Performance measurement and benchmarks are always one of the most concerns for any company. The situation of "other companies is not seen ("A frog in the well")" is not desirable and Management also asks for objective proof of achievement. For this reason, companies are forced to take measures such as purchasing reports from research companies. However, it would be useful if Coupa provides "comparison result with external companies" as well as "comparison between the company's goals versus performance" as a part of "community intelligence function" with no additional fee.
It's a bit longer, but I'll quote from the blog article in April, mentioned above.
In addition, Coupa has unique and interesting features: Community Intelligence. Let me briefly describe this feature.

A group of suppliers that everyone says is better may be more reliable than of suppliers that specific person has chosen (which may be biased). Or data that reflects everyone's opinion may be more accurate than survey data from a specific organization. Coupa's concept of "Community Intelligence", which emphasizes actual data in user companies, seems to be synonymous with Rachel Botsman's best seller "Who Can You Trust?", which tells the world is transitioning to "distributed (decentered) trust," such as mutual assessment of Uber and Airbnb, rather than "institutional trust (based on a specific authority or system)."

Let's look at a real example. The following is the content on the above-mentioned "Insight" screen.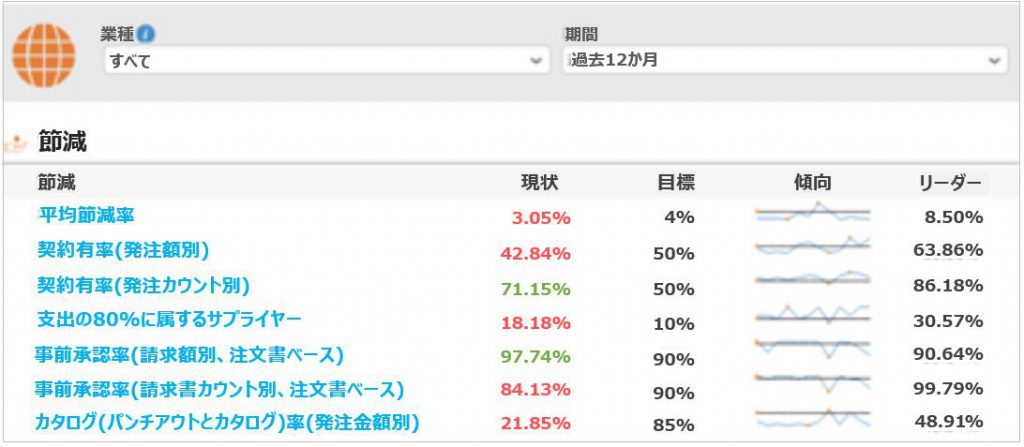 The "Insight" screen is divided into three categories, "saving", "efficiency", and "Usage ", and key indicators (KPIs) are vertically arranged. On the other hand, the horizontal axis shows actual values such as "You (in-house actual)", "Your Goal (in-house target)" and "Your Trend (in-house actual trend)". Even if you can grasp your company's situation with various indicators (KPIs) in real time, it is an attractive feature.

But that's not all. The item "leaders" on the right side is the truly valuable feature of Coupa. It shows the average of the top-tier companies among the entire Coupa users and can be compared with your company.
We sometime find that the purchased survey report is useless, as we feel uncomfortable with the contents or benchmarking values. However, if actual values collected from other Coupa users are provided as comparison (benchmarking) data, it may be quite convincing.

In addition of indicators (KPIs) comparison, Coupa apply the power of user groups (community intelligence) to supplier management. For example, Coupa users can search for suppliers used by other companies and check what average scores (up to 5 stars) is given by other Coupa users. This other company's assessment can be used to identify new candidate suppliers or to identify the risk of the currently own suppliers (in case when score is unexpectedly low). In the case of Ariba, you will be required to use a group of suppliers registered and managed institutionally by Ariba, which called "Ariba Network" (therefore, suppliers belong to this mechanism must pay the usage fee to Ariba). Coupa, on the other hand, adapts community intelligence which can be share supplier status based on the assessment of community members. Between Ariba and Coupa, there seem to be differences in the underlying product concepts, such as the "institutional trust" vs. "distributed (decentralized) trust" described in the previous book "Who Can You Trust?".

"Coupa is READY for the Japanese Market!"
This is a nice and convenient function for the user. In addition, Coupa regularly provides a whitepaper include 13 KPIs results of "Leader" (Japanese edition is also available).
However, when Coupa declared "Next to AI and BI is CI (Community Intelligence)" at the annual conference "Coupa Inspire'19" in June, and when announcement of the Coupa Business Spend Index has started, everyone started to realize that "Next to AI and BI is CI (Community Intelligence)" has a deep meaning.
4. The business model that makes the industry enthusiastic: Why Coupa wins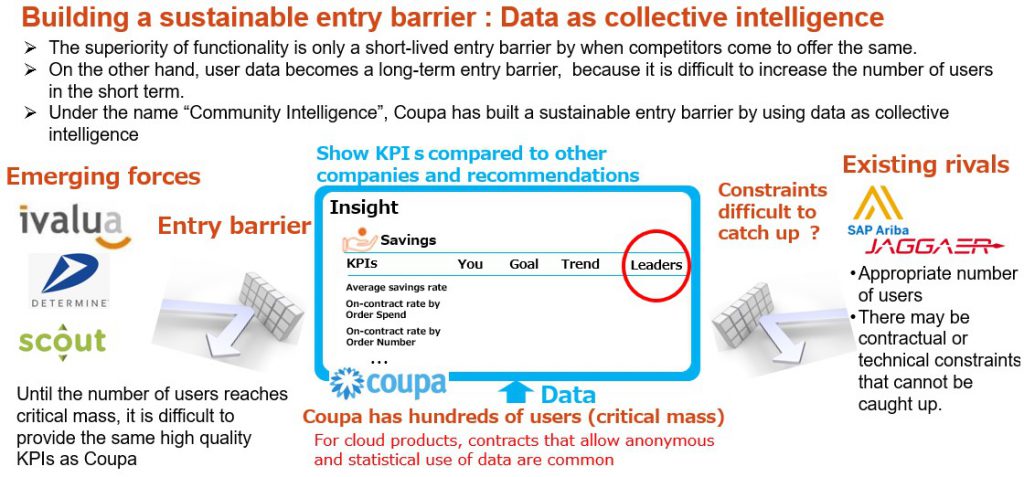 In fact, CI (Community Intelligence) functions as a strong entry barrier to ensure Coupa's sustainable competitive advantage. Above chart on building entry barriers is an excerpt from my text for start-up clients.
Coupa secures users of a certain size (critical mass) and statistically uses the user data to provide KPIs beyond a single company. This is a unique feature of Coupa and brings a great advantage to Coupa, as mentioned in the Gartner report.
On the other hand, new vendors are constantly born. In the future, they may become Coupa's leading competitors. But their user size has not yet to reach Coupa. This means that the accuracy and scope of their KPIs is currently inferior to Coupa.
Higher quality KPIs should be preferred for customers. If so, customers will increasingly choose Coupa. Then it is not easy for emerging venders to catch up with Coupa.
Existing vendors – Ariba and Jaggaer have not followed the CI function of Coupa. As both companies have been doing on-premises business prior to cloud, there might be some contractual or technical limitations.
Then, the only winner is Coupa.
Coupa's business model seems to have many such unique and innovative mechanisms. And when you notice the excellence of Coupa's business model … For example, Spend Matters has begun a series of articles on Coupa's internal capabilities.
In addition, the presentation of "Value Engineering team", which introduced as one of Coupa's Special Force Teams in Spend Matters, is included in this symposium.
6. 40% annual growth… Coupa is no longer a tiny start-up
Coupa's innovation has boosted Coupa's annual revenue by nearly 40%. Please see the graph of "Cooper's Revenue Transition" below.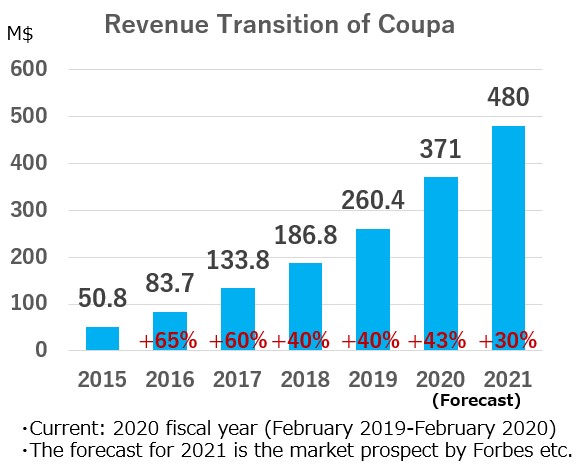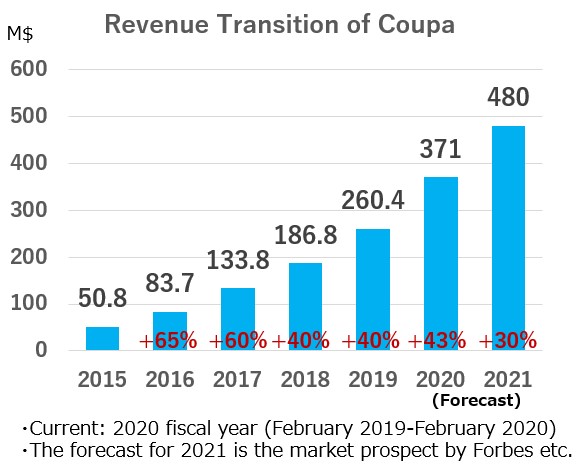 With revenues for the FY2019, Coupa reached a quarter size of SAP Ariba + Fieldglass, and expected to reach almost half in two years. Coupa is no longer a tiny start-up, but is one of the top three major companies (Ariba, Coupa, Jaggaer) in terms of corporate size, and still continues to grow at a tremendous rate.
Remarks)
For the market valuation and performance results of procurement solution venders, the article "Gartner 2019 Magic Quadrant for Procure-to-Pay Suites (with Valuations) -Software Platform Consulting" is helpful.
Overview of the COUPA Japan Symposium 2019
Suitability for procurement solutions varies from company to company. Therefore, I do not intend to force Coupa. However, if you are considering introduction of procurement solutions,
The risk of misjudgment increases if you miss Coupa. The 2019 symposium will be a good opportunity for you to learn about the superb solution, Coupa.
Date: Nov. 19 (Tue.) afternoon
Place: Grand Hyatt Tokyo
Application: https://get.coupa.com/JAPAN2019.html
Agenda:
13:00 – 13:50 | Registration & Networking
13:50 – 14:00 | Opening
14:00 – 14:30 | General Session about Business Spend Management (BSM)
                Steve Winter (Coupa CRO (Chief Revenue Officer)
14:30 – 15:00 | Customer Stories
       Mitsubishi Heavy Industries
       Nomura Research Institute, Ltd.
15:00 – 15:15 | Break – Networking
15:15 – 16:00 | Introduction of Coupa Functionality (Demo)
16:00 – 17:00 | Customer Success Stories
       Accenture, Tohmatsu Consulting、KPMG Consulting
17:00 – 17:30 | Coupa Value Engineering
                Kalim Khan, Regional Vice President, BVE
17:30 – 17:40 | Closing
17:40 – 19:30 | Networking Reception